Alright.  You got m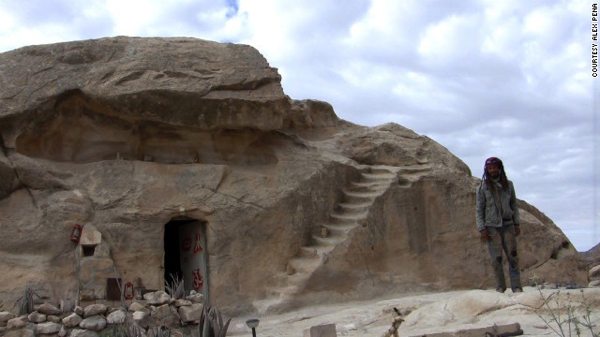 y attention.
Being one of travel and hospitality, I'm a huge fan of scoping other options on AirBnB, CouchSurfing.com and other "esoteric" world accommodation sites… I love to browse through the exotic, once-in-the-world type places one can stay while on the road.  Truly inspiring green living options (like this wild Earthship in Normandy) Ridiculous, high-design, cantilevered house-porn type places like out of the blackbooks of architecture students (say, for example, this this jewel in California)… storage units and re-purposed airplanes (like this one in New Zealand), and all sorts of magical train cars, tree houses, houseboats and igloos.  But this one is really out there.  Really on the edge.
Deep in the canyons of Petra (Jordan), owner Ghassab Al-Bedoul has opened his home to travelers and adventurous couch surfers.  The land is beautiful and barren.  The lodging consists of a cave carved out of hard stone, painted with fanciful designs and outfitted with simple but comfortable furniture and bedding.
The article recently featured on CNN's travel site, and the exposure that comes with it, would, one might think, risk inundating Mr. Al-Bedoul with guests.  … I'd like to think that, as is always the case with traveling, the divine influences of calling, determination and brutal realism will combine to select those travelers who might best fit with a night or two in this unique setting.  Not every road is for every traveler.  Those that want to share this space with Ghassab and explore Petra from that unique launching point will find their way there.  For many, however, this will simply be a reassuring story of the grandness of our world and the warmth of people in distant communities to welcome the world into their home.  I know more than a few great stories have be borne of this man's hospitality.  Here's to the backpackers and bold hosts of this world!