Great News!  The global economy flounders, Earth's environmental outlook becomes ever more dire, common folk the world over suffer from lack of opportunity and resources…
John Hammergren, CEO of healthcare provider McKesson, earned $145m last year. Photograph: George Nikitin/AP (he might be a nice guy.  I have no idea.  I'll assume, with that kind of dough, that he's really involved in conservation and social concerns.)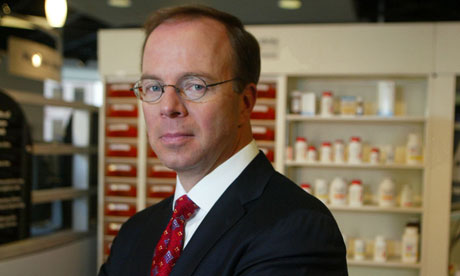 But, Cheer up!  Top execs in the US enjoyed pay hikes of between 27 and 40% last year!
Woo-Hoo!  All Glory to the ruling class! We shall build gilded temples to their awesomeness!  Tremendous memorials built on the very backs of a hopeless middle-class; for each top earner a shining colossus in their likeness which shall stand for eons over the shattered landscape they've helped create!
We've covered some great info-graphics on this
trend in previous posts.  
There is no surprise here, for many, in the continued disparity between workers in this world.  While wages for the majority of Americans fail to keep up with inflation, the very wealthiest citizens become ever more "well-to-do."  What remains completely unfathomable to me, however, is how rapidly we see an increase in failure of schools, public programs and crucial environmental efforts IN THE FACE of this completely insane growth in personal profits.  People will continue to grab what they can.  I don't expect anything less.  But in these difficult times (for MOST HUMANS), when I see project after project after project struggle to stay afloat and maintain efforts to save individuals in a sensitive ecosystem or troubled community… It makes me sick.  Actually, quite ill.  We have here the refined product of a global system that rapes human and environmental resources for the unsustainable benefit of a very few.  This cannot continue.  Time to step up to the plate, top earners, and pull your head out of your asses.  Falling off a cliff might feel like flying… until we all hit the bottom.  And despite what your chauffeur might tell you, we're all on this ride together.